Julia Furdea was crowned Miss Austria 2014
A 19 year old woman named Julia Furdea was crowned Miss Austria 2014 held at the Casino Baden in Baden on July 3th, 2014. She will represent her country not only at Miss Universe, also she will participate in the Miss World that will take place on December in London, England.
Julia Furdea's reaction
In tears, the new Miss Austria said: "I never expected this to me, for me is a dream come true". 
The beauty from Asten stands 1.70 m, speaks four languages and has as a goal to become a TV host. She excelled during the entire competition to the point she even won the previous phase of training camp of Miss Austria. Besides that, on the final gala, she scored 90 points and between her, who was on the first spot, and the second place there was a margin of more than 20 points of difference. Clearly she was the best in the competition. Winning the Miss Austria grants her with the opportunity of  having prices and jobs worth 80 000 euros, a Mercedes A-Class car and luxury travel to Ela Quality Resort Hotel.
The Miss Austria 2014 Pageant
The event had two special guests that served as judges. The current Miss Universe, Gabriela Isler from Venezuela was participating in a panel of judges for a third time, after the Miss Russia and Binibining Pilipinas, but now with the task of chosing the next Miss Austria. Accompanying her was Miss World 2009, Kaiane Aldorino from Gibraltar.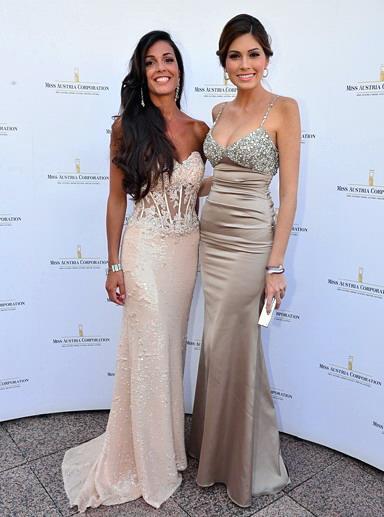 Two Grand-Slam queens Miss World 2009 Kaiane Aldorino and Miss Universe 2013 Gabriela Isler joined forces to chose the Miss Austria 2014.

The pageant had 17 contestants from all over Austria trying to win the crown. The first runner-up was Nadine Stroitz (19), Catherine Nahlik (18) emerged as second runner-up.

Julia Furdea on instagram

Julia Furdea taking good times and enjoying her ice cream



Julia Furdea Miss Austria 2014 working as a model



Julia Furdea, newly crowned Miss Austria 2014



Julia Furdea on Instagram



Julia Furdea's street style



Julia Furdea showing to her followers her pink lips