The new Czech beauty queen is Gabriela Franková from the city of Brno. She currently studies at the University of Economics in Prague with her 20 years and 1.78 m (5 ft 10 in). Franková was crowned as Česká Miss 2014 and represented her hometown at the pageant on March 29th, 2014.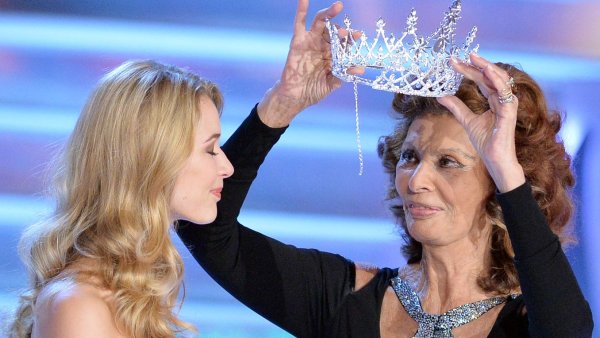 Sophia Loren crowning Gabriela Franková.

Gabriela's passion for modelling began in primary, specifically in first grade. At the begining, she was not fully committed and focused with modelling, but when she was four-teen, she decided to go serious with the career. For more than a decade, she has experienced the life of a model by taking part on runway shows in Milan, Bratislava and Istambul. And last year she opened her very own modelling agency. She has even described modelling as "a school of life". Besides that, for her, this is not her first pageant. In 2011 she was a contestant in the "Miss Praha".

The reigning queen of the Czech's was really impressed with her crowning at first: "I am incredibly happy, spreading tears of happiness. It has been an incredible experience. I did not expect this", she said to the web page Super.cz. For the page revue.idnes.cz, she said: "I feel great. This makes me excited. Thanks to all who have supported me through out this time". 

The night was really  special  by the iconic Italian-superstar Sophia Loren attending to the Gala as the special guest of the night celebrating the 10th anniversary of the pageant. Loren not only crowned Franková, she also was part of the panel of judges that choose her and the other finalists of the pageant that are going to other pageants such as Miss World and Miss Earth.





Franková sounds in the pageant community as one of the strong contestants in the Miss Universe with her blonde and blue eyes. Do you think that aswell?



Gabriela Franková in her modelling facet.